Hopa Online Casino, A Detailed Review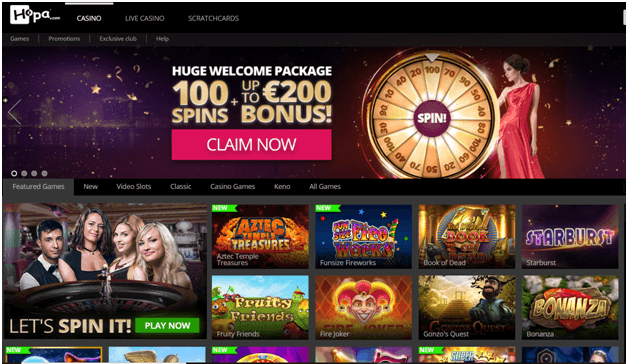 For those who are not familiar with Hopa, this little casino is a good one to have some fun. Hopa does not meet the greatest casinos' standards, but you usually get what you came for: a well-managed website, a quality software and varied games.
Online since 2005, Hopa has proven its ability to develop and gather more and more players on its platform, thanks to a great design and an attractive welcome bonus. When you join the website, your minimum deposit to start playing is 25£. Once you are officially a member, you are eligible for a welcome bonus up to 500£ and a hundred free spins. A great thing to keep in mind is that Hopa enables its players to choose between quite a few secured payment methods. Let the fun begin with our latest review!
The website
Clearly, Hopa is a nice website to look at. The graphics are simple but catch the eye, and the layout is not too confusing as it can sometimes be the case when it comes to online casinos. The software runs smoothly and you won't get these annoying buffering moments, not even with live videos and virtual sports animations.
The games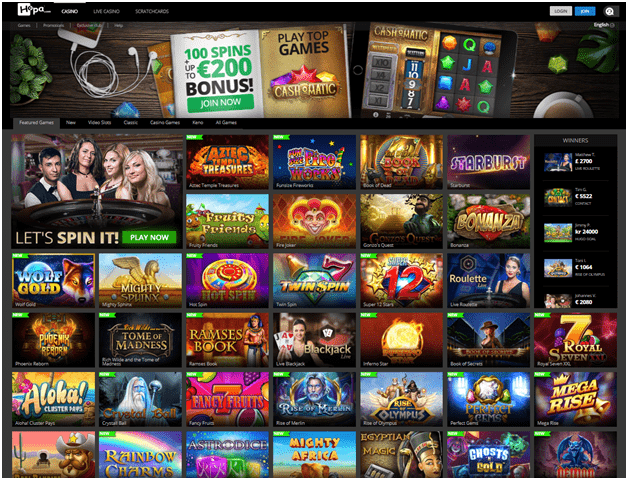 If there is one thing that Hopa has, it is a very wide selection of games, in fact, more than 500 casino games. From classic online games to live casino, not forgetting scratch cards, Hopa is a player's paradise. Whatever game you are into or dreaming to try, it must be on the website. Hopa also has very nice virtual sports betting games, with very realistic and entertaining design. As for the casino games, you will find all your classic favorites: Roulette with a lot of choices, Baccarat, and so on. However, bear in mind that you cannot play poker on Hopa.
Another good thing to know is that Hopa offers different options to play Blackjack, all very entertaining. This is to be taken into consideration since Blackjack usually offers a good payout rate for its players. On Hopa, you will be able to play no less than five Blackjack games, such as live Blackjack and Black Jack solo.
Hopa's VIP program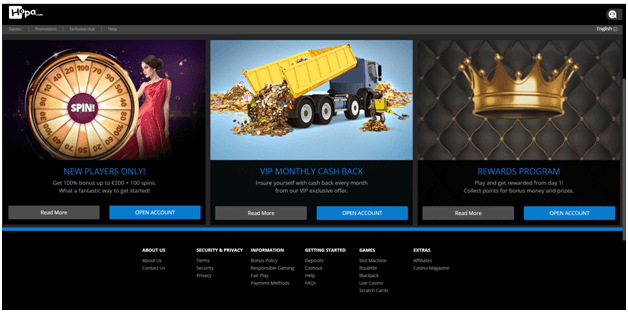 Like some other online casinos, Hopa offers a VIP program, that offers great bonuses, freebies and other advantages for the top players. The new customers are automatically enrolled in the program and start at the bottom of the scale. The idea is simple and quite the usual: you have to win your way up to the top to benefit from the best deals. The more you win, the highest VIP rank you can access and the more advantages you get.
Customer service
Unfortunately, Hopa does not have many options in case you have a problem. Players can either e-mail the team, call or use the live chat, but this third option is not available 24/7, so you might face some difficulties if you need to talk to a member of the team between 11p.m and 6a.m. Try sending an e-mail, but it will take a little more time than live chat. Still, the team is really efficient and will get you out of trouble in no time.
Hopa on the go
Even when used with a good wi-fi connection, the website takes a little time to load on an iPhone. However, the design works perfectly on a small screen without being too messy or unclear. A good thing is that you can choose either to download the app or to play directly on the website if you do not have enough storage space on your mobile device. With a light software that does the job, Hopa is easy to carry everywhere with no quality or speed loss.
Overall
As expected, Hopa is a little online casino that is quite entertaining, although it does not – yet – have what it takes to join UK's biggest online casinos. If you are looking for a good quality website that provides you with casino games, as well as virtual sports and scratch cards, you have found the right place.