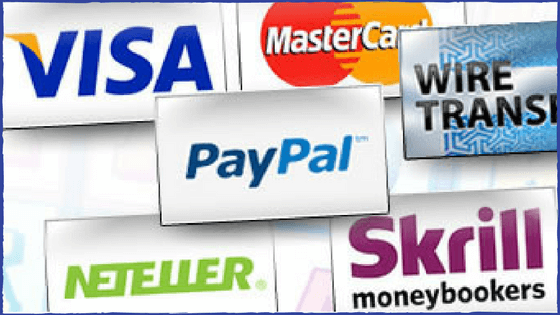 One of the most important things that players in the UK have to do in order to enjoy the online casinos is to find the best method to fund their accounts and also to find the best method to withdrawal the money they win at the online casinos. The different casinos usually offer similar payment methods, but it is important to find a casino that has the payment method that you like.
When looking for the best payment methods you have to consider several factors.
Security
Speed
Fees
Ease of use
Trust
All of these things are important although some players will value one thing over another. The best payment method is the one that meets the players needs the best. When looking at each consideration, you will have several things to consider. When it comes to deposit methods in the UK, there are certain methods that are better suited for most players than others.
Security
When a person makes a deposit at the online casino they want to make sure the information is transmitted through a secure connection. They want any money they transfer to end up in their online casino account and not in the hands of an identity theft.
The most secure payment methods are the ones that use the credit cards. Visa and MasterCard are accepted at many online casinos. The cards offer fraud protection if a person's information is stolen and they also include features that warn a person if the card is being used fraudulently.
There are other payment methods that can offer some security. Neteller and PayPal provide a layer of anonymity that will help protect the online casino user as well.
Speed
Electronic transfer deposit methods offer instant funding of an account. Any money that is transferred will be ready immediately for the online gamer to use. That means that MasterCard, Visa, Neteller, PayPal, Skrill and other similar forms of electronic payments offer the same speed advantage. Money that is sent by wire transfer methods will usually take several days to process before the money is available.
Fees
Casinos may not charge fees to make a deposit, but many of the deposit methods charge fees. These fees will vary and can be significant. It is wise to check whether a fee will be charged by contacting the method you choose first. Even credit cards may charge fees because the deposits are often considered cash withdrawals. Even if there is not a fee associated with this, there will be a higher rate of interest charged. Many transfer companies and casino also have minimum amount for a transfer. This can impact which one a person chooses.
Ease of Use
Credit cards are very easy to use, but they can be dangerous. They could allow a person to play more than they should and eventually the bill will have to be paid. Pre-paid debit cards and services such as PayPal and Neteller can help people avoid this problem.
Trust
That is up to the individual. Trust is built after a person has used a deposit method for a while. The one you trust may not be the same as the one that someone else trusts.
In the end, the only way to decide which is best is to look at the online casinos in the UK and go to the banking methods. That will give you a list of methods to consider. Once you have the listm, you can find the best method.