Gala Bingo Review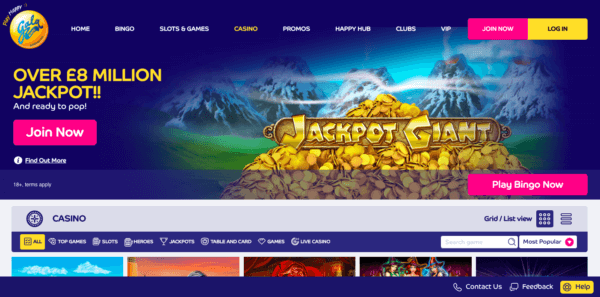 In the game for over 20 years now, Gala Bingo hasn't built its reputation on thin air. One of the most popular UK online casinos, it started with its software back in the day, to migrate to a more powerful one as the number of players kept increasing.
As a stamp of approval, it is worth saying that Gala Bingo has won many awards over the years, and still until recently, with a Which Bingo Awards nomination and a Best Playtech Bingo Site win.
When first looking at the home page, you might find the design a bit too flashy and too confusing, and it is. However, Gala Bingo is an online casino worth getting to know. Not all websites have this philosophy of trying to build a relationship with their members by giving them so many occasions to have fun, not to mention so many bonuses!
Convinced yet? Let's have a closer look.
Promotions
It is the best thing that can be about an online casino, Gala Bingo has a no-deposit bonus. Without placing any of your money on the table, get a nice 20£ cash to start with! Enjoying the fun has never been easier. Also, when spending a real 10£, you will get 30£ for free. A no-deposit bonus added to a first deposit bonus, that's what we like to hear!
Luckily for all the players, the Gala Bingo promotions don't stop just yet. The online casino is quite a generous one, with a daily 100 000£ giveaway, try your luck and win a ticket to the best rooms on the website. Gambling on Gala Bingo sure gives you extra chances to win big
Games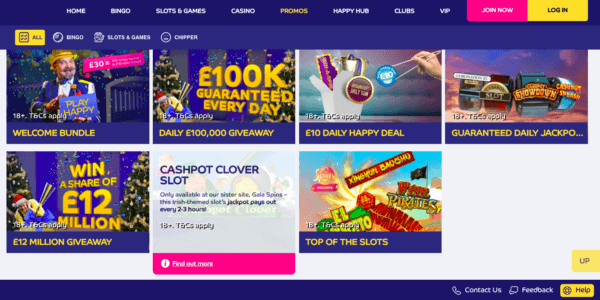 Gala Bingo's strength lies in the games. The online casino is constantly trying to launch new exclusive games, and that is why the members remain faithful! Would you leave a place that can offer so many new things that often?
With Bingo Games of 90, 80, or 75 balls, you have entered the Bingo kingdom. Seat back, and play! As you could've guessed, Gala Bingo focuses mainly on Bingo games, but that's not it. You will also find several scratch card games, slots, and classic casino games.
It is a bit hard to find exactly what you are looking for since the layout of the Casino section isn't very clear. Still, what you'll find will be worth it.
Baccarat, Roulette, Blackjack, and all your favorite table games are here! You won't find many versions of each, sadly. With live Blackjack, live Roulette, and live Baccarat, everyone should be happy, but maybe not for long. However, as Gala Bingo likes to take care of its customers, you'll be enjoying great designs and flawless software.
VIP Program
Gala Bingo's VIP program is one of the most entertaining, even though its general idea is quite basic. The VIP program features four levels, obviously all depending on how much you've played. Starting from Bronze with a Champagne Room, going up the levels will entitle you to more privileges and freebies. Feel like a real VIP. Since you start collecting points to join the VIP clubs from the day you enter the casino, it takes little time to climb the ladder.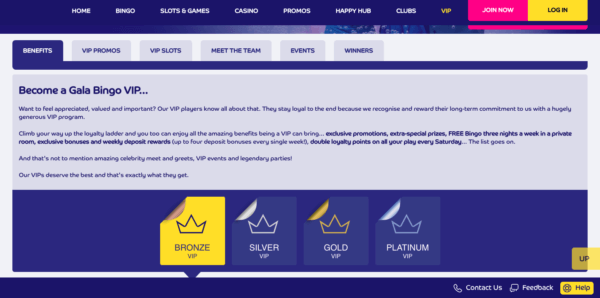 Conclusion
Whether you are a true bingo fan, or simply enjoy gambling on a fun site that treats its players with great respect, Gala Bingo is for you. Don't worry about any problem with the software or anything thing at all. A 24/7 team will be by your side in no time if something was to happen. Still, if you are looking to spend hours trying all different kinds of Roulette, finding an online casino with a larger diversity of casino games would be a wise choice.