CasinoEuro has been online since 2002, and it keeps improving! It has made thousands of players happy, so why not you? Let's take a closer look at what this casino has to offer.
With a quite basic, yet responsive layout, CasinoEuro pretty much looks like every other online casino on the Internet. However, this little guy features some special that might interest both new and expert gamblers.
The welcome bonus is quite nice, a 100% welcome bonus, up to 50£. The nice twist is that, if you decide to put in 25£ or more, you'll get 25 free spins on a selected game. However, don't forget to check the wagering requirements, if you don't want your deal to expire.
If you are new to the world of online casinos, have a look at our guide just here.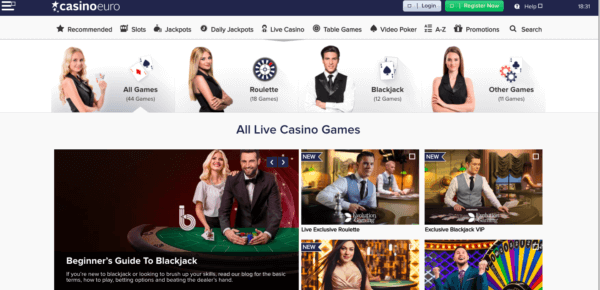 Games
Games are almost the most boring part of the casino. You will find your classic loved ones, Roulette, Blackjack, Baccarat, Poker, and so on. There are also many live casino games, so whichever version you prefer, it's available here! The best part is that every type comes game comes in a great variety! Don't be afraid to try each game, and decide which one you'd like to spend hours on. CasinoEuro is a website that can keep you busy for days, trying all its games and discovering all the different promotions.
CasinoEuro also features slots, with some exclusive games that are worth the try.
Promotions
If there is one field that CasinoEuro knows well, it is one of the promotions. Every day is a great day! There is the weekly deal, which is a surprise each time, as well as the weekend surprise deal. Do you want more? Here's a daily jackpot. You can almost go to CasinoEuro only to discover and enjoy the promotions if you don't feel like spending hours playing serious game cards. No doubt about it, CasinoEuro knows how to keep its players coming back.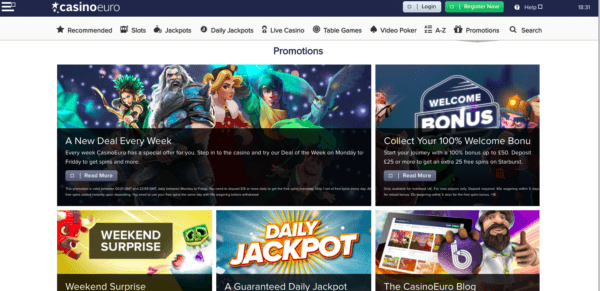 Jackpots
Jackpot lovers – but who isn't one? – have found their heaven! CasinoEuro has two sections dedicated to the big prizes: jackpots and daily jackpots. It sounds like you have various occasions of winning big on that one!
There are almost countless jackpots and daily jackpot games, so try your luck! It sure is rare to win one, but with more games, the more chances!
To find out more about what online jackpots are and how to increase your chances of winning one, have a look at our articles right here and here.
Compatibility
It's no surprise for such a nice little casino, CasinoEuro quite rocks the compatibility aspect. You will be able to access your favorite online casino with its great app, available on IOS, Android, and iPad. There is no restriction, so feel free to bring CasinoEuro wherever you go! You will still be able to enjoy the same great promotions and graphics you have fallen in love with on the website.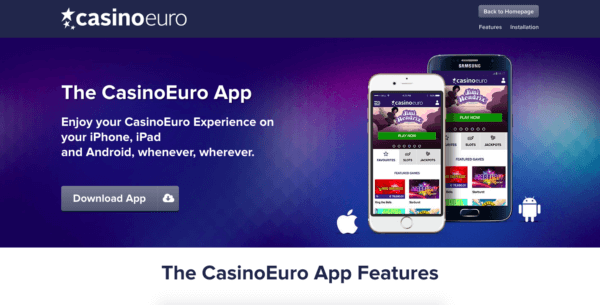 Customer Service
A good online casino needs to have great customer service, and CasinoEuro does. In case of a problem, you can choose between calling, e-mailing, and live to chat. The response is fast and efficient, so no worries! It's not like anything is going to go wrong, but if it does…you're not alone!
Conclusion
CasinoEuro is quite a fun little online casino! It might not be a first choice for card game players, because of its playful and young aspect. You won't find serious tables here, but a lot of fun! If you're willing to try many games and enjoy great and ever-changing promotions, you've come to the right place. CasinoEuro is great for beginners, also thanks to a great blog that will teach you how to play each game, and give you great advice on casino games. Find their guide to playing Blackjack right here.